The Battle for Wesnoth
The Battle for Wesnoth is a Free, turn-based tactical strategy game with a high fantasy theme, featuring both single-player, and online/hotseat multiplayer combat. Fight a desperate battle to reclaim the throne of Wesnoth, or take hand in any number of other adventures... more »
The development team is proud to release version 1.12 of The Battle for Wesnoth. We really hope you enjoy Wesnoth 1.12 as much as we enjoyed creating it. You can learn more and read the in-depth, translated release notes »
Download Wesnoth 1.12.6 (stable):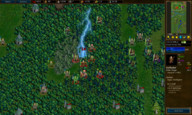 Get Started
Want to know more about the game? Get started and read the complete manual.
Join Us
Whether you are a new player or an experienced developer, welcome to our community.
FAQ
A compilation of the most frequently asked questions about this game and the project behind it.
Reviews
There were many reviews by print and web magazines. Don't hesitate to have a look at them.

News
Wesnoth 1.13.6: Development Release
Friday, November 11 2016
Wesnoth 1.13.6 is now available! This is the sixth development release in the 1.13.x series and it delivers a number of improvements, most notably to the UI, and bug fixes. If you want to know more about it, check out the forum thread with the list of changes in this version.
As on previous occasions, we also offer two versions of the changelog: a trimmed-down players changelog including only those items considered to be relevant in regular gameplay, and a more technical full changelog for enthusiasts and content creators.
The source code and Windows packages are already available on the downloads page. You may also find packages for other platforms there as they become available.
UPDATE 2016-11-12: The macOS package is now available as well.
Bear in mind that this is a development version, and one with major internal changes — as such, it is likely to include a lot of new bugs, some of which are already listed in the release notes. If you encounter other issues, make sure to report them to us so they can be fixed for future releases.
You may comment on this release in the forums.
New iOS port maintainer needed
Wednesday, August 17 2016
As Dave mentioned here, we're looking for someone to help us make a new iOS port of Battle for Wesnoth.
Also incidentally, we are looking for a new coder to help port Wesnoth to iOS. If anyone is interested or knows somebody who is interested please let me know. The iOS port is badly out of date at this point and someone with those skills would be very much appreciated.
Our arrangement with the old port's maintainer is sub-optimal, not to mention the port itself is still on version 1.10 even as 1.14 is fast approaching. As such, we're looking for someone to create and maintain a new iOS port and keep it up to date with stable releases as they come out.
Keep in mind this is not a task to be taken with a dilettante attitude. We're looking for someone with both skill and expertise in app development who's willing to work on this long-term, as opposed to someone who would take this on as a learning experience.
Additionally, do note you will receive a cut of the profits from sale of the port on the App Store.
If anyone's interested, send vultraz (our Community Manager) a private message on the forums.
Thanks